OUR material strategy
The materials we use are a big part of our total environmental impact.
Acknowledning this, we have set goals to minimize the impact of our raw materials as much as possible, without affecting the good quality and design you already know and love.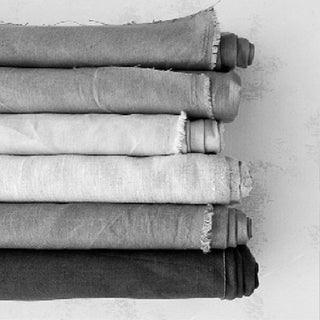 We are monitoring the different levels of the materials we use and strive to do better year over year.
We rate our materials on seven parameters: Water use, chemical use, social issues, environmental issues, animal welfare, price and availability.
We define a garment as a better alternative to the conventional option if 50 percent or more of the material used has documentation, which proves the claim of a lower environmental impact - always compared to conventional alternatives. Read more in our visual material guide here:
Certifications will be in the foundation of our material strategy in the coming years. We are certain that the increased level of documentation we can better evaluate our efforts and guide our consumers when shopping.

Our initial focus will be making sure our suppliers are certified, ensuring that our on-product information is always correct and valid.
When making a new product, we always keep in mind that the impact of each of our garments do not solely come from the raw material itself.
We look at our garment in a holistic way and try to consider all aspects during the design process. That means we are aware of the processes of printing, coloring and washing, but we also take into consideration how to prolong the garment's life, how the garment can be mended and how it can be used again with recycling.