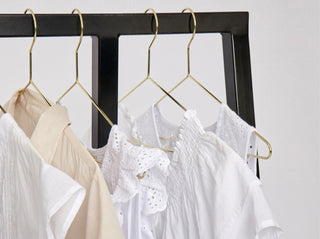 fabrics
REGENERATED CELLULOSE FIBERS
Worth knowing about lyocell, viscose & modal:
ALWAYS FOLLOW THE INSTRUCTIONS ON THE CARELABEL
Viscose can shrink if you wash it wrong.
Therefore, always check your care label to see the washing instruction before
throwing into the machine.
AVOID WRINKLES BY DRYING AND STORING ON HANGERS
Always hang your viscose and lyocell products up to dry.
Then you avoid the fabric being wrinkled and also store in your wardrobe on a hanger.
IRON TO GET YOUR PRECIOUS ITEMS BACK INTO SHAPE
Viscose materials do have a tendency to shrink during wash.
Get your product back to the original shape, by ironing while still being damp.